Campus Spotlight
Solar Lighting
Institute of Health Sciences (IHS) is one of India's premier medical institutions providing professional rehabilitation courses like BASLP, BPT, etc. It is by far India's only institution that houses all types of therapeutics and rehab support inhouse catering to patients where students can practice and perfect their skills.
Aditi Integrated School
Aditi Integrated School was conceived as a girl child education project for socio-economically disadvantaged children. The school provides free food, school uniform, school books and accessories and conveyance facilities, not just free teaching. Children with special needs are integrated into the informal set up to learn social skills by participating in recreational activities.
Vernacular Architecture
Infrastructure of the campus is planned keeping the need of disability rehabilitation in mind. While buildings were having accessible corridors, courtyard provided natural lighting and ventilation. Landscape was paved with pathways to facilitate locomotor training. Locally available building materials apart, natural materials were used to minimise carbon footprint. Unplastered stone walls required no painting. The overall impact was to create an ambience that looks like a health resorts, rather than a hospital.
Green Campus
Greenery was created with shady trees to cool the air. Wide blade grass was used to cover the exposed land area. Many medicinal shrubs, creepers and trees dot the campus. The organic waste is recycled. Rainwater harvesting facilities are fitted at different places to recharge the ground water. Single use plastic is discouraged in the canteen. Solar lighting is installed at different places.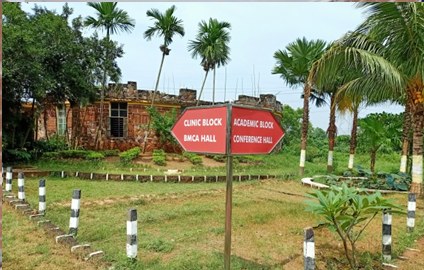 Hydrotherapy Clinic
A small hydrotherapy unit is created for providing therapy to children with motor disorders like Cerebral Palsy and muscular dystrophy. Children with Autism who have motor integration issues or kids with Down's syndrome also benefit from the centre.
Integrated Rehabilitation Center
This center is established to provide patient centric comprehensive care by a team of professionals. The Neuro degenerative disorders like Alzheimer's disease, Parkinson's disease, Multiple Sclerosis, and those who suffer cerebral stroke, head injury, spinal injury etc receive variety of functional therapies, range of recreational therapies and need based biomedical intervention.
Yoga
Qualified Yoga instructors make their inputs available for physical and mental health of students and staff members of the Institute of Health Sciences and other units of Margdarsi.
Model Center
MCCWSN is a dedicated platform with elaborate facility to provide comprehensive care for different types of childhood disabilities. The rehabilitation services include entire range of functional therapies like Physiotherapy, Speech Language therapy, Occupational therapy, Psycho therapy, Special Education etc; Various recreational therapies available at the centre using Art, Craft, Dance, music, participatory Play, Yoga, Hydrotherapy, horticulture therapy etc. Need based therapeutic intervention, in appropriate doses, is provided to build up the functional skills to age appropriate level. Hundreds of children with Autism Spectrum Disorders, ADHD, Cerebral Palsy, Intellectual disability, Learning Disability, Down's syndrome, congenital Deafness or birth defects that cause disability visit the centre daily. Unmatched personal care is provided to children to develop age appropriate functional skills, drop the features of disability to join the mainstream school. Hence the tagline is "Nonverbal to Normal schools"
Therapy Park
IHS has developed Therapy Park for the play activities of children with Special needs. The park has a plantation of medicinal herbs used in traditional remedies.